Corrie ten Boom – Holocaust Concentration Camp Survivor,  Humble Heroine, Vessel of Forgiveness
Cornelia Arnolda Johanna "Corrie" ten Boom was born April 15, 1892 in Amsterdam, Netherlands, near Haarlem. Carrie's grandfather, William ten Boom, opened a watchmaker's shop in Haarlem 1837, and led prayer services to pray specifically for Jewish people who were being discriminated against in Europe. William passed this faith tradition onto his son, Casper ten Boom, Corrie's father, who inherited the watchmaker shop.
Ten boom Legacy of Faith in Christ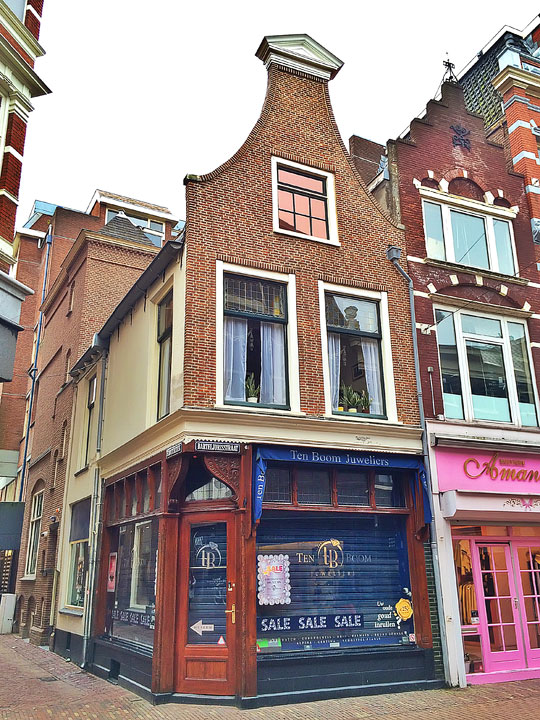 The ten Boom family (Casper and Cornelia ten Boom, Corrie, her brother Willem, and two sisters, Nollie and Betsie) lived on the second floor, above the watchmaker shop. Mrs. ten Boom nurtured her children's faith, teaching them to love and obey Christ. Mother ten Boom made a 'blessing box,' instructing her children and their friends to drop coins into the box to help the poor and missionaries. And as her children matured, she instructed them how to lead Bible studies for their neighbors. Corrie's mother died in 1921. Throughout the years (1920s – 1930s), the ten Booms cared for many refugee children and orphans.
World War II
On September 1, 1939, World War II began. And in less than two years, on May 10, 1940, the German army invaded the Netherlands and within five days of fighting, the Nazis occupied the Netherlands.
Corrie, who was 48 at the time, helped her family turn their home into a safe haven (Hiding Place) for people trying to escape Nazi tyranny. Mr. ten Boom and his daughters, Betsie and Corrie, risked their lives hiding Jews and others in their home for a few years. The ten Boom family helped save the lives of an estimated 800 Jews and other refugees.
Large wall clocks camouflaged a false wall that opened up to a secret hiding place. The secret room was only about two feet deep by eight feet long, but could hold six or seven people. The hideout was very successful, but on February 28, 1944, a traitor led the German police to the 'hiding place' and thirty people, including several of the ten Boom family were arrested.
Corrie, her father, and her sister, Betsie, were taken to Scheveningen Prison, where Corrie's dad died ten days later.
Ten months later, Corrie and Betsi were shuttled to Ravensbruck concentration camp near Berlin, the largest camp for women in German-controlled regions. Thousands of women were executed there.
The living conditions were harsh, with little food and severe discipline. Betsie and Corrie led secret prayer services in their barracks, using a smuggled Bible.                                                                    The following story is one of my favorite 'faith over fear' narratives. 
Fleas and Lice a Blessing?
When Corrie and Betsie entered the filthy flea invested Ravensbruck prison and they were starving, they cried out to the Lord to help them.
While laying on a bunk with several other women, Betsi turned to Corrie and shared these words, "Give thanks in all circumstances." Corrie asked, "What on earth can we give thanks for?" Betsie said, "We are together in prison and we have a Bible that wasn't confiscated."
Then, Betsie prayed, "And thank you, Lord, for the fleas." Corrie told her sister that she could never give thanks for fleas, but Betsie reminded her that it is God's will to give thanks in all circumstances.
While lying on their flea-and lice-infested beds, they gave thanks for the fleas. After several weeks passed, they noticed that the soldiers rarely came into their barracks. Initially, Betsie and Corrie did not know why, but it allowed them time to share the love of Jesus with other women. One day, Betsie asked a supervisor to come to the barracks for assistance. Betsie told Corrie, "'The supervisor wouldn't step through the door and neither would the other guards. And you know why?' Betsie boasted of their unusual blessing: 'Because of the fleas!' That's what the supervisor said, 'That place is crawling with fleas!'"
On December 16, 1944, Betsie died at Ravensbruck of starvation and lack of medical care. Corrie recalled Betsie's last words:
"… (we) must tell them what we have learned here. We must tell them that there is no pit so deep that God's love is not deeper still. They will listen to us, Corrie, because we have been here."
Two weeks after Betsie's death, Corrie was 'mysteriously' released from the prison due to a "clerical error." Corrie always referred to this as a miracle. Shortly after her release, all of the other women in her age group at Ravensbruck were executed. 
Remembering her sister's last words to go and tell, "there is no pit so deep that God's love is not deeper still," Corrie spent the rest of her life sharing their story and the gospel of Christ and his forgiveness around the world. During one of her speaking engagements, she recognized one of the guards who had cruelly mistreated her, Betsi, and the other prisoners.
Corrie Retells Meeting Her Enemy
It was in a church in Munich that I saw him, a balding heavyset man in a gray overcoat, a brown felt hat clutched between his hands. People were filing out of the basement room where I had just spoken, moving along the rows of wooden chairs to the door at the rear.
The solemn faces stared back at me, not quite daring to believe. There were never questions after a talk in Germany in 1947. People stood up in silence, in silence collected their wraps, in silence left the room.
And that's when I saw him, working his way forward against the others. One moment I saw the overcoat and the brown hat; the next, a blue uniform and a visored cap with its skull and crossbones.
It came back with a rush: the huge room with its harsh overhead lights, the pathetic pile of dresses and shoes in the center of the floor, the shame of walking naked past this man. I could see my sister's frail form ahead of me, ribs sharp beneath the parchment skin. Betsie, how thin you were!
Betsie and I had been arrested for concealing Jews in our home during the Nazi occupation of Holland; this man had been a guard at Ravensbrück concentration camp where we were sent.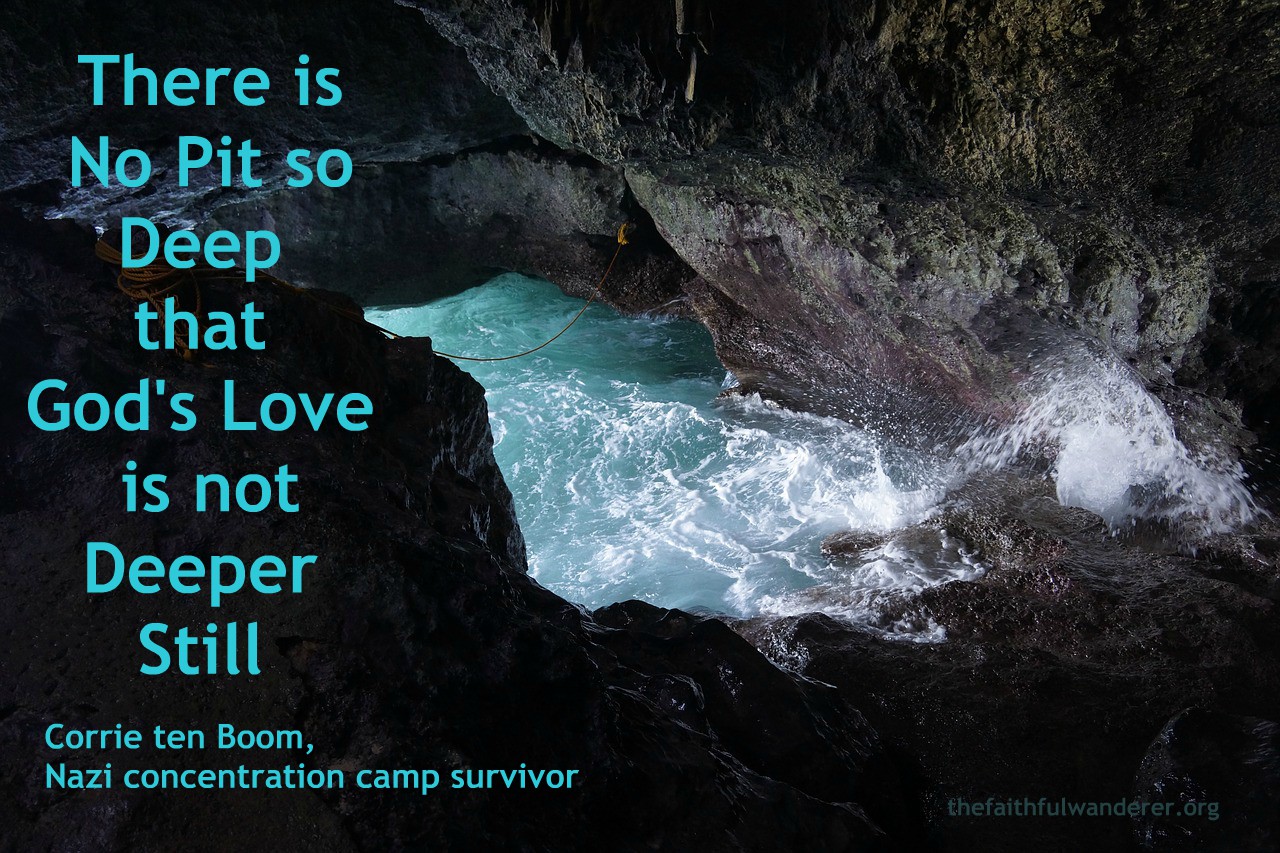 Now he was in front of me, hand thrust out: "A fine message, fräulein! How good it is to know that, as you say, all our sins are at the bottom of the sea!"
And I, who had spoken so glibly of forgiveness, fumbled in my pocketbook rather than take that hand. He would not remember me, of course–how could he remember one prisoner among those thousands of women?
But I remembered him and the leather crop swinging from his belt. It was the first time since my release that I had been face to face with one of my captors and my blood seemed to freeze.
"You mentioned Ravensbrück in your talk," he was saying. "I was a guard in there." No, he did not remember me.
"But since that time," he went on, "I have become a Christian. I know that God has forgiven me for the cruel things I did there, but I would like to hear it from your lips as well. Fräulein"–again the hand came out–"will you forgive me?"
And I stood there–I whose sins had every day to be forgiven–and could not. Betsie had died in that place–could he erase her slow terrible death simply for the asking?
It could not have been many seconds that he stood there, hand held out, but to me it seemed hours as I wrestled with the most difficult thing I had ever had to do.
For I had to do it–I knew that. The message that God forgives has a prior condition: that we forgive those who have injured us. "If you do not forgive men their trespasses," Jesus says, "neither will your Father in heaven forgive your trespasses."
I knew it not only as a commandment of God, but as a daily experience. Since the end of the war I had had a home in Holland for victims of Nazi brutality.
Those who were able to forgive their former enemies were able also to return to the outside world and rebuild their lives, no matter what the physical scars. Those who nursed their bitterness remained invalids. It was as simple and as horrible as that.
And still I stood there with the coldness clutching my heart. But forgiveness is not an emotion–I knew that too. Forgiveness is an act of the will, and the will can function regardless of the temperature of the heart.
"Jesus, help me!" I prayed silently. "I can lift my hand. I can do that much. You supply the feeling."
And so woodenly, mechanically, I thrust my hand into the one stretched out to me. And as I did, an incredible thing took place. The current started in my shoulder, raced down my arm, sprang into our joined hands. And then this healing warmth seemed to flood my whole being, bringing tears to my eyes.
"I forgive you, brother!" I cried. "With all my heart!"
It was 1947 and I had come from Holland to defeated Germany with the message that God forgives.
It was the truth they needed most to hear in that bitter, bombed-out land, and I gave them my favorite mental picture. Maybe because the sea is never far from a Hollander's mind, I liked to think that that's where forgiven sins were thrown.
"When we confess our sins," I said, "God casts them into the deepest ocean, gone forever."
In our deepest pain and suffering, God reaches out to us with His love and compassion. How can I do less, to those who Jesus died for on Calvary. The only true enemy we have is satan. As Jesus died on the cross, His last words stick in my mind, every time I'm tempted to withhold forgiveness to someone who has hurt me. "Father, forgive them…" (Corrie ten Boom)
Inspired by Betsie's example of selfless love and forgiveness amid extreme cruelty and persecution, Corrie established a post-war home for other camp survivors trying to recover from the horrors they had escaped. She went on to travel around the world to 64 countries as a missionary, preaching God's forgiveness and the need for reconciliation.
Corrie ten Boom died on her 91st birthday, April 15, 1983. She was buried at Fairhaven Memorial Park in Santa Ana, California.
You will find these stories and many other inspiring incidents from the life of Corrie ten Boom in her own book, The Hiding Place, released in 1971. And later, the book made into a film in 1975 by World Wide Pictures, Billy Graham Association. https://www.christianbook.com/the-hiding-place-corrie-ten-boom/9780553256697/pd/56696?event=ESRCG
Other Favorite Resources:
Tramp For The LORD, https://www.christianbook.com/tramp-story-begins-where-hiding-place/corrie-ten-boom/9780875089867/pd/089867?event=AAI
Torchlighters DVD, The Corrie ten Boom Story: https://www.christianbook.com/torchlighters-series-corrie-ten-boom-story/pd/015385 and for other Torchlighter resources for kids: https://torchlighters.org/